PHONE US ON 01 960 1641
VIEW THE NEW BERG PLAYBASE RANGE HERE
Berg Climbing Frames for Kids
Stressful day? Then it's finally time to relax in your own garden!
Enter Your Details Below for An Immediate Callback
So, What's So Special About the NEW BERG Playbase Climbing Frames?
Here is a quick overview:
#1 EXTREME VERSATILITY –
possibly the single greatest advantage of the New BERG Playbase Climbing Frames is their extreme versatility. Versatility when it comes to how the Playbase is enjoyed and who enjoys it.
For example, due to its large range of options and accessories the Playbase will be suitable for babies and toddlers, to older kids, teenagers and even adults, see our guide below:
YOUNG KIDS:
Babies, toddlers and younger kids can enjoy themselves and have fun with the large swing range, including nest swings, baby swings, wooden swings, disc swings and more.
If they love to climb there are rock climbing walls, tumble bars, monkey bars, gymnastic rings and trapeze bars.
SPORTS:
As the kids get a little older sports options include – football nets, basketball  hoops and a boxing punch bag.
EXERCISE & HOME GYM:
For the more fitness-minded among us, whether young or old there are the monkey bars, a pull up bar, dip bars, resistance bands and a fitness rope.
RELAXATION
and when the day is done and you have a moment to relax there is a beautfiul swinging hammock to be enjoyed with or without the kids.
#2 Minimal Footprint in your garden –
With a keen eye for clean design and maximum efficiency BERG Playbase climbing frames benefit from a quite small footprint in your garden, due to the fact that much of the framework sites underneath your grass.
Producing an extremely versatile and stable piece of garden play equipment, that is suitable for the whole family.
#3 Metal Framework for Easy Maintenance
Once again with an eye to design the BERG Playbase are made from metal to deliver an extremely low-maintenance and durable play frame that won't need to be painted every few years in order to properly maintain it.
#4 Easy to Install – No Concrete Required
With BERG the design process includes an extremely simple and low-effort installation process, and that is why the BERG Playbase does not need to be anchored with concrete, and instead the framework simply sits below your grass.
This also means that should the need arise to move your BERG Playbase that this could be quite easily achieved.
PHONE US ON 01 960 1641
VIEW THE NEW BERG PLAYBASE RANGE HERE
#5  WOW FACTOR
For all of the reasons that we mentioned above and more the BERG Playbase certainly has the wow factor, and is unlike anything else on the market in either Ireland or Europe.
Phone 01 960 1641 to discuss your requirements.
Anyone who wants to have fun with sports, games and a cozy get-together with the whole family has found just the right thing with the BERG PlayBase.
The BERG PlayBase is a new, unique, multifunctional concept for outdoor fun and games, packed in a high-quality and stylish piece of play equipment. A part that can absolutely be seen in every garden.
Get a modern BERG PlayBase in your garden too – sizes as follows:
LARGE – this is the 380 cm wide extra large version,
MEDIUM – the 285 cm wide medium version.
The depth and height of the two frames are identical, measuring 100 cm deep and 245 cm high.
BERG Playbase Outdoor Climbing Frames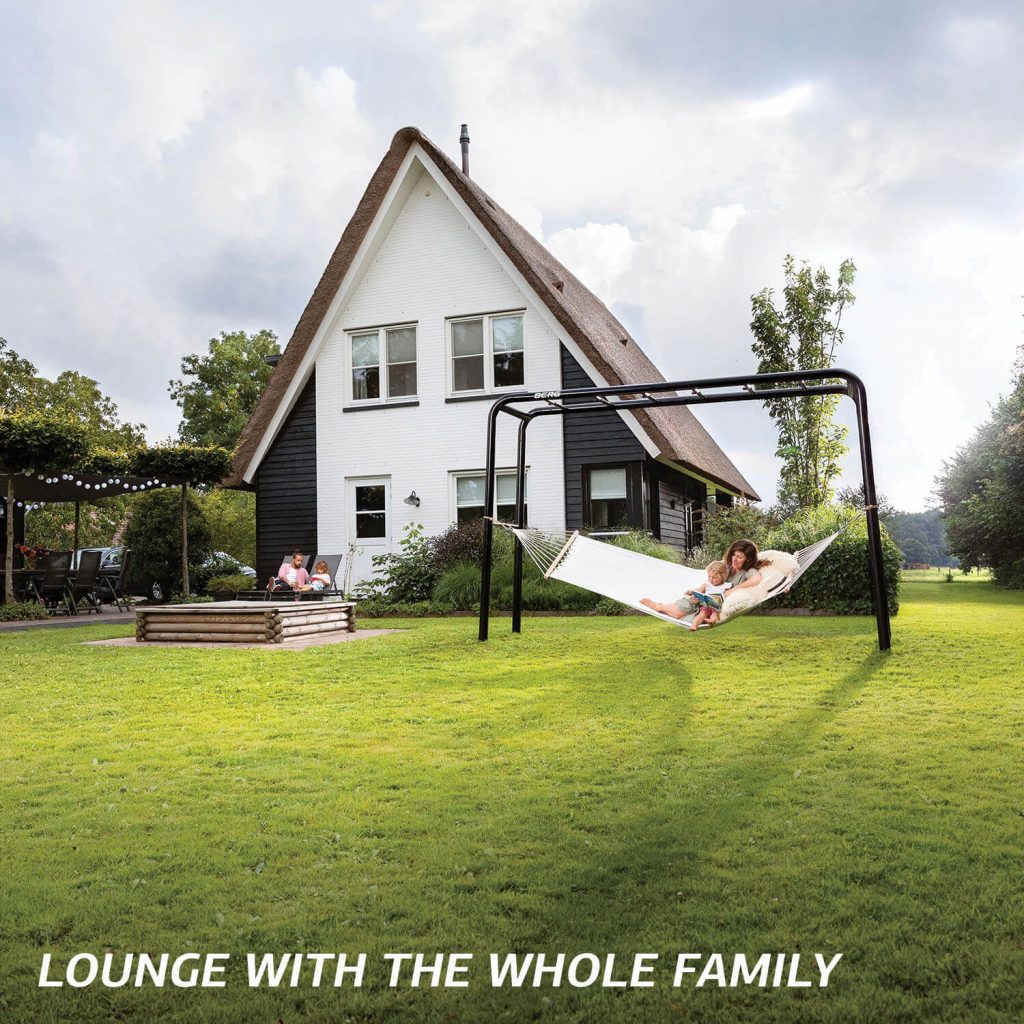 Phone 01 960 1641 to discuss your requirements.
The strong and robust frame of the BERG PlayBase has a modern and minimalist design and features a patented tube connection. The whole thing is really stable in the ground and thus forms a solid basis for the many accessories and possibilities that the PlayBase brings with it.
For optimal protection against corrosion, the steel frame is galvanized, covered with a special anti-corrosion coating and also powder-coated. The BERG PlayBase lasts for years and enriches the home garden paradise in a wonderful way!
LARGE Playbase variant: 3 accessories can be used at the same time
The choice is yours: decide for yourself whether you would rather buy the 380 cm wide large version or the 285 cm wide medium version. Depth and height are always identical for both models – namely 100 cm deep and 245 cm high.
For the sides of the frame, choose stairs, horizontal bars, or a combination of both. No matter how you choose your BERG PlayBase – there is always one
monkey bars (top),
horizontal bar (on the side)
or stairs (on the side) included.
The BERG PlayBase at a glance:
2 sizes available: here Size LARGE (380 cm | 100 cm | 245 cm)
Strong, sturdy frame = electroplated + powder coated in black
12 different accessories for Play, Sport & Lounge
Attach accessories with the practical click system or quickly remove them again
Install up to three accessories (size L) on the PlayBase at the same time
Always interesting = growing with your family
Modern look in black
Simply dig into the ground – without concrete or foundation
Choose how you want your BERG PlayBase to be equipped
The BERG PlayBase is really flexible. You can already choose between 12 different accessories that you can easily change as you like. Many more accessories will be added in the future.
If your child is still a baby or toddler, you can choose a nice swing or a nest swing from the Play range, for example; If the children are older or they want to be active in sports on the PlayBase, then we offer you a wide range of great sports accessories.
And if you want to relax or chill out, you should take a look at the lounge offer. After all, isn't it wonderful when you can relax again after all that tension? With the stable hammock, it works in no time – and by the way, it only fits in the large frame!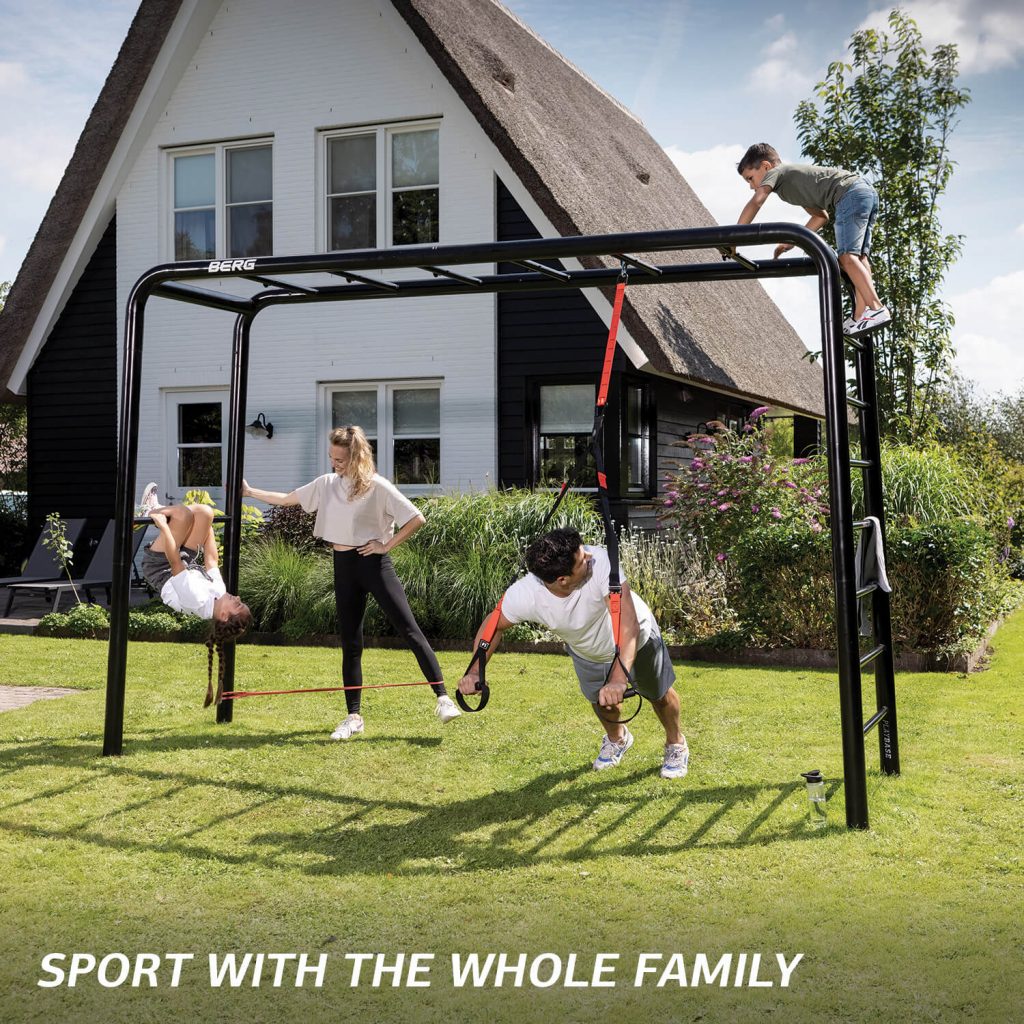 Phone 01 960 1641 to discuss your requirements.
Play, sport or lounge? 
Choose the right one from 12 different accessories
The PlayBase grows with your family – depending on the age structure, the BERG PlayBase is always the right choice and never goes out of style.
PLAY Category: There are many different types of swings within the Play range, all of which are great fun. From the baby swing to the nest swing, the classic rocking board or the plate seat – we have them all!
Category SPORT: If you have older children and would like to invest more time in your workout, you can ideally supplement the BERG PlayBase with suitable sports accessories such as gymnastics rings, a punching bag, horizontal bar or a climbing net (also suitable for playing football). A climbing wall can also be installed on the side of the PlayBase.
Category LOUNGE: For those who prefer to chill, the lounge offer is just right. On the high-quality hammock you can relax from the stress of everyday life and have a stable frame for sweet dreams in the open air. (Only available for size L)
The BERG PlayBase offers a different adventure every day and is new every day!!!
Minimalist design
The beautiful, minimalist design of the BERG PlayBase is characterized by its elegant geometric appearance, black powder-coated steel and natural accents of the wooden and rope accessories.
Compact above ground and stable below ground
Thanks to the innovative underground frame design, the PlayBase takes up much less space above ground than other climbing devices. Thanks to the ingenious construction, it was possible to build a stable and strong foundation with little soil excavation. As a result, the BERG PlayBase is very stable without having to pour concrete.
Short and sweet:
The BERG PlayBase is a completely new, unique concept with an incredible number of possibilities for the whole family. The BERG PlayBase means years of unlimited fun for young and old. You never have to say goodbye to the BERG PlayBase, because it grows with the family over the years and always offers new uses.
Check out the New Playbase Ireland site –
https://playbaseclimbingframes.com/
Let us advise you now and plan together with us what your BERG PlayBase should look like. Our specialist consultants will be happy to help you and put together a unique combination with you – the possibilities are limitless.
Phone 01 960 1641 to discuss your requirements.